Flow: An Illuminated Training Manual (Paperback)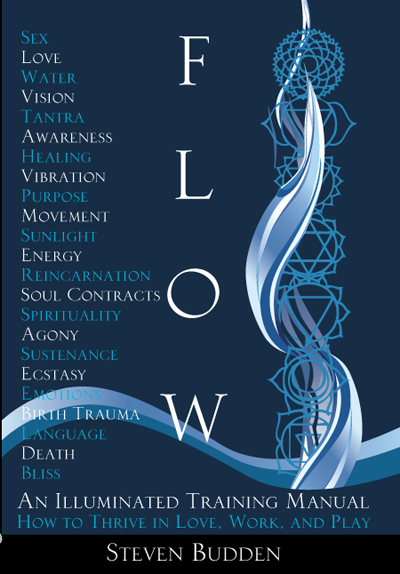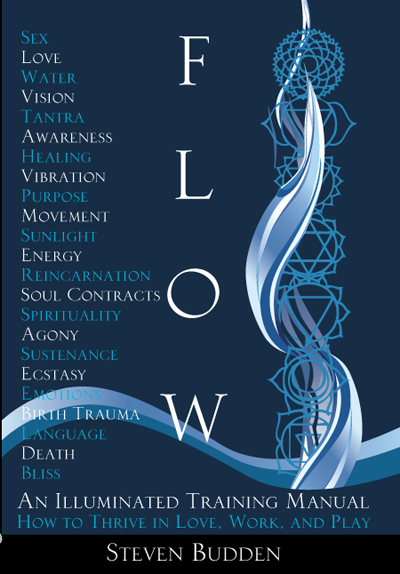 Flow: An Illuminated Training Manual (Paperback)
I'm Steven Budden, accidental life enhancement expert. I wrote Flow - An Illuminated training Manual to capture the essence of the most potent healing solutions I've discovered in working intensely with clients and healing trauma somatically over the years.
Healing is expansive; the word 'holistic' doesn't begin to cover it. In these pages, you'll discover how to get to the root of your wounds, for the deepest healing possible. This is the most effective book for depression and anxiety because it will alter your worldview and create more space for joy.
Just as I was writing 'there are no accidents', the entire hard drive crashed and I lost the first draft. So I shook it off, and wrote it all again from memory, this time in fits of inspiration and passion. It was a more fluid version. My concept of their being 'no accidents' was put to the test, as any concept will be.
Spare yourself the hopeless detours I took, as I desperately tried 'everything' to heal my mysterious ailments.
I experienced a life-altering awakening on a beach. I almost lost it for a while, until it was re-engaged when I broke my neck a few years later. Healing this injury introduced the somatic (body) piece, and I realized how fundamentally connected all of our seemingly disparate pieces are.
Eventually, I stumbled upon a few answers; answers that will fundamentally change your life. With individual clients, my approach heals depression and anxiety in record time, in almost every case. This book is an attempt to translate my approach so that it can reach more people.
Caveat: this book is meant to be read slowly and deliberately. Let it move the pieces of you, so that you can rebuild your life from the ground up. Question all that you think you know.
I live and learn on the outskirts of traditions, so you won't hear me parroting useless concepts. Everything within these pages has been rigorously tested on myself and others, producing dramatic results time and time again. My strategies are radical, because I do what needs to be done to produce staggering results in limited timeframes.
They will work for you.
Trauma is always a call to awakening. I use the word 'trauma' liberally to mean... anything that you are still holding onto... anything that remains unresolved for you.
Depression and anxiety are symptoms of living out of alignment with your values or with the human design, either in your lifestyle, or in the culture,
Join the tens of thousands of others who have downloaded this book, and become a part of something beautiful.
This dense book includes little known radical somatic strategies that provide a direct path to your deepest healing.
I touch on: Sex Love Water Vision Tantra Awareness Healing Vibration Purpose Movement Sunlight Energy Reincarnation Soul Contracts Spirituality Agony Sustenance Ecstasy Emotions Birth Trauma Language Death Bliss.
Keep it by your bedside, and read one of the short chapters every evening before retiring. Or devour it in one sitting. It is the user's manual for life that I wish I had.
Welcome to the beauty of moving forward.
Welcome to FLOW.

Steven Budden
PS. This book makes a profound gift for anyone inspired by emotional, physical, or spiritual healing.